Dr Cunningham is a nationally recognized dermatologist who is one of only 200 doctors in the nation who is Double Board Certified in Dermatology and Pediatric Dermatology. Dr Cunningham earned her medical degree from Emory University School of Medicine in Atlanta, where she graduated cum laude. Her postgraduate training included a residency in dermatology at McGaw Medical Center of Northwestern University Medical School where she served as chief resident. She was a recipient of the Johnson and Johnson Fellowship in Pediatric Dermatology and completed her fellowship training in pediatric dermatology at Children's Memorial Hospital and Northwestern University in Chicago. Her clinical interests include surgical and laser treatment of birthmarks. She is the author of over 60 professional publications and routinely reviews numerous medical journals. Dr Cunningham is the 2010 recipient of the volunteerism in Dermatology award by the American Academy of Dermatology for her humanitarian/medical work in Central America.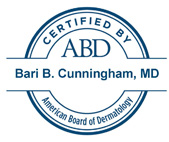 Dr Cunningham has been recognized for her dedication to excellent and compassionate care of her patients. She is the recipient of numerous local and national awards including: "Best Doctors" in America in 2002-2016 "Physician Recognition Award" from UCSD Dermatology 2008 and "Best Dermatologists in the Country" by the Consumers' Research Council of America 2007. Locally, she has been awarded the "Top Doctors" honor by San Diego Magazine in 2007 – 2021. This year, Dr. Cunningham has the unique distinction of being the only pediatric dermatologist to receive this top honor.
Dr Cunningham is only accepting new pediatric patients.